Areekkal waterfall is a must-see beautiful waterfall located on the Ernakulam – Thodupuzha road. Almost 41 kilometers away from Kochi city. This is one of the very few falls situated in the region.
If you are looking for a scenic destination with nice weather near Kochi for a one day break with your family? This waterfall is a good recommendation for you.
Travelers can reach this spot within an hour from the vibrant port city of Kochi to enjoy its beauty.
Surrounded by rich rubber plantations and picturesque settings, the silvery cascading water atop rocky cliffs is a visual delight
. Spending a few hours at this waterfall can be refreshing.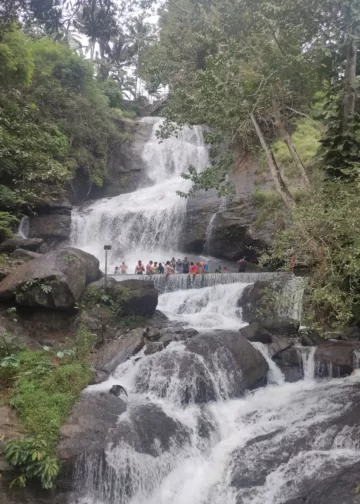 Peaceful place with serene environment
Most of the waterfalls in Kerala situated among dense forests. Visiting them provides a refreshing feeling to each visitor.
A trip to the Areekkal Waterfalls makes your day an unforgettable one.
Areekkal's serene environment makes it an ideal spot to spend with friends and family. And also it would e relief from the noisy city. It is an ideal place to relax and to experience the spirit of nature.
Small but Worth Visiting Waterfall
Areekkal Waterfall is
relatively
a small waterfall in Kerala but worth visiting.
The unpolluted surroundings and tranquil atmosphere make it a favorite picnic spot among many people
.
A lot of nature lovers and picnickers visit this waterfall during weekends and holidays
.
Travelers also love to walk through the trail in the rich rubber plantations. There is a nearby cave that is also a must-visit spot in this area.
The nearby toddy shop with superb serving food is also fascinating features of this picnic spot
. Travelers can enjoy tasty Kappa (tapioca) and fish curry at the toddy shop.
The occasional rainfall and fresh air
certainly
make it a beautiful place to relax and enjoy a day.
How To Reach Areekkal Waterfall
Located almost 41 kilometers away from Kochi. One can reach Areekkal falls within one hour of travel from Kochi's main city.
Travelers can take a deviation either from Thripunithura or from Thiruvankulam to reach the Areekkal Waterfalls
.
Monsoon season (June – September) is the best time to visit Areekkal Waterfalls.
It is the best time because the beauty of this place is at its peak during this time. Also, the waterfall would be at its peak during this monsoon season.